Gatherings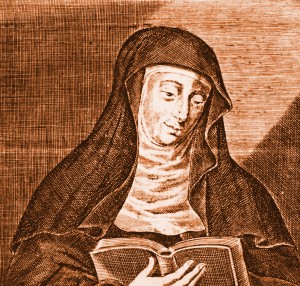 This cell group meets every other Saturday morning:
Madonna Rehabilitation Hospital
5401 South Street
Lincoln, Nebraska.
Before 8:00 a.m.: Gather in Silence, Ryan Memorial Chapel
8:00 a.m.: Morning Prayer
8:15 a.m.: Time of Silent Prayer
8:30 a.m.: Gathering, Frontier Room
9:30 a.m.: Breakfast and Fellowship, Cafeteria.
Books
Summer 2017: Text: The Vinedresser's Notebook: Spiritual Lessons in Pruning, Waiting, Harvesting & Abundance, Judith Sutera, OSB, Nashville, Tenn.: Abindgon Press, 2014.
September through May, 2017–2019: New Seeds of Contemplation, Thomas Merton.
Sources: The Rule of St. Benedict, the Bible, and other resources.
Gatherings
The group's discussions begin with the chapter's prayer for the community of oblates. After spending a few moments on "housekeeping" items, one member of the group leads a time of lectio divina on a passage from The Rule of Benedict. Then a time of discussion, either on the reading from the book of the season or on another topic, follows.
Sample Discussion Topics
"Learning to Pray: A Journey through Benedict's Chapter on Humility"
"The Life of St. Benedict Reflected in Postage Stamps"
"Gossip, Slander, and Complaining: The Control of the Tongue in Early Christian Monastic Literature"
Rod Dreher's "Benedict Option".
Leader
Carol Roettmer Brewer.